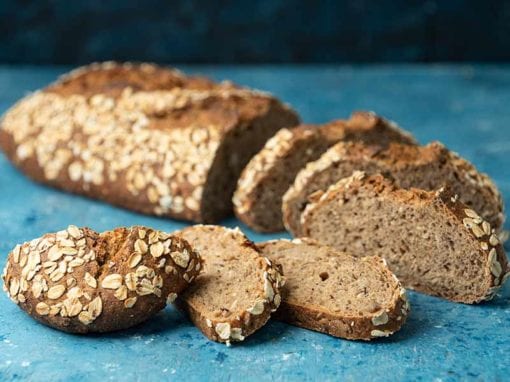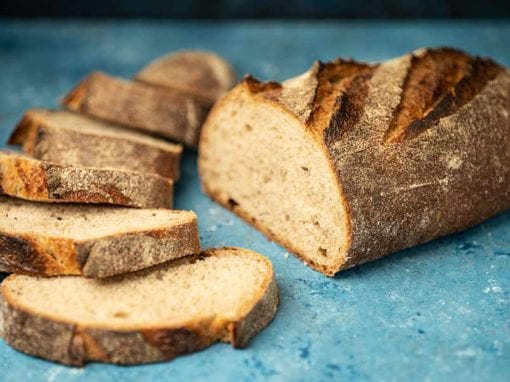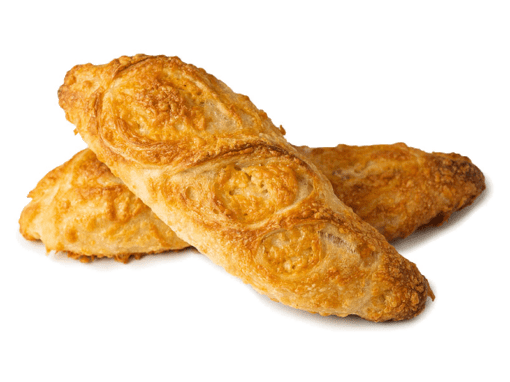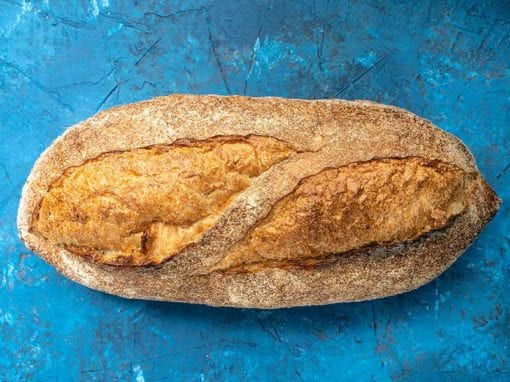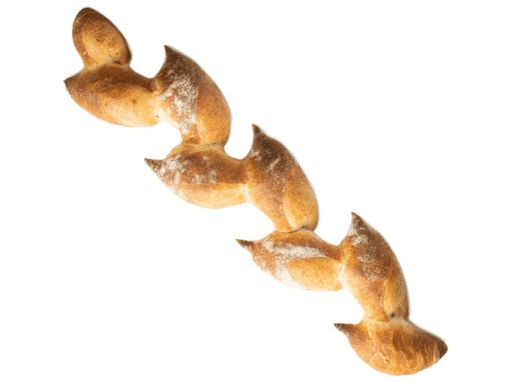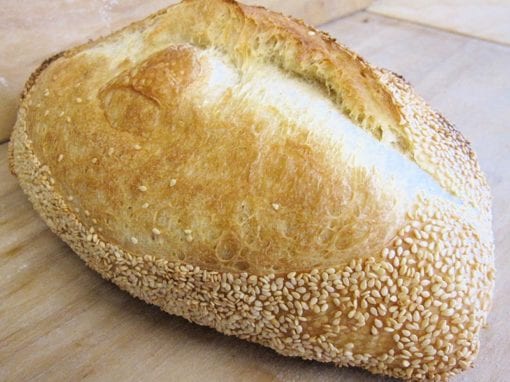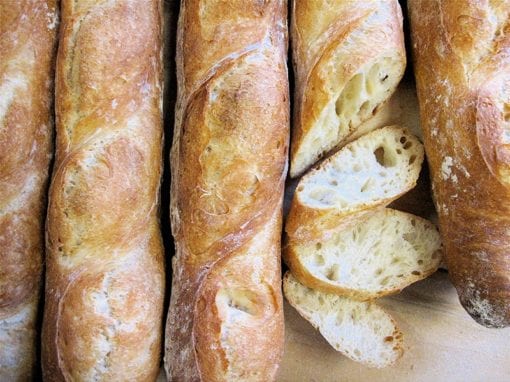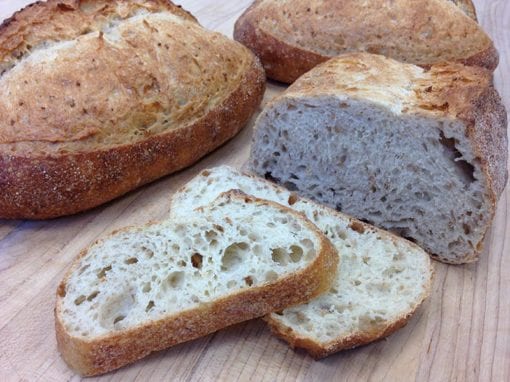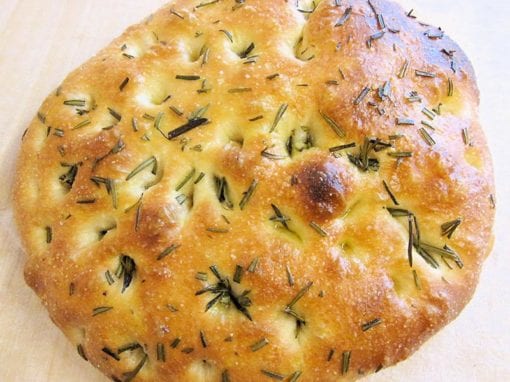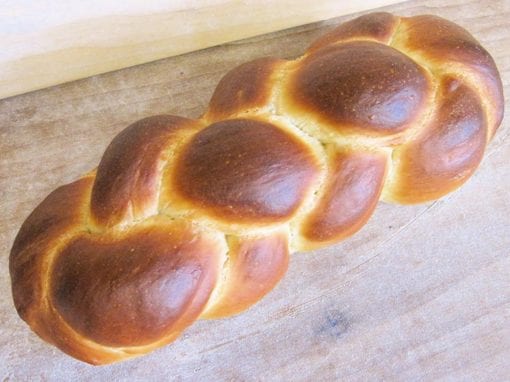 French Baguette & Artisanal Loaves
Everyday we bake our classic French baguette and a variety of artisanal loaf breads.  Consult our daily bread schedule for a comprehensive list of our breads and the days of the week we bake them.  All breads are baked fresh daily.
>> Download the daily Bread Schedule <<
Bread Descriptions at a glance
Baguette:  Crispy crust, holey crumb.  While popular for crostini, tapenade, bruschetta and the sort, this is in its element dipped in olive oil, or used for sandwiches.  Available in a regular or demi size baguette.  We also make our baguette in an Epi de blé, this baguette is cut to resemble a chaff of wheat and breaks nicely into small portions, the perfect dinner roll solution.
Caraway Rye:  This rye loaf contains whole caraway seeds, and the bite of it's sourdough starter. Baked on Sundays only.
Challah:  Made with a lot of eggs and a generous amount of honey, this bread has a very soft, yet very chewy crumb with a subtle tang given by a splash of cider vinegar.  The crust is dark, yet soft with a sharp caramelized sugar flavor.
Cheese Ficelle:  Our demi-baguette folded and rolled with Pecorino Romano and shaped into a long skinny baguette.  Baked for the retail sale on Fridays, available for order everyday.
Ciabatta:  Named after the Italian word "slipper", this bread is an irregular rectangular bread with long streaks of white flour, contrasted with a medium to dark crust.  The crust is hearty. The crumb is tender with larger holes.  A smaller version, the size of a hamburger bun, is also available (useful for the "messier" sandwiches, such as pulled pork).
Ciabatta buns: Any day we are baking Ciabatta, you may special order Ciabatta buns.  Perfect for sandwiches and burgers, these rolls are sold in 4 packs.
Cracked Wheat:  Presently a favorite for sandwiches amongst our restaurant-owning clients.  Crispy, moderately thin crust dusted with whole wheat flour.  Soft crumb with medium to small holes.  A small volume of cracked wheat berries give the chew occasional, almost "al dente" bites.
Focaccia:  A thick flatbread with large holes in the crumb, infused with olive oil with fresh rosemary, and dusted with salt.  With a hearty crust, this bread has a tougher texture, but is still soft enough to hold in sandwich fillings at the bite.
Speciality Focaccia:  a smaller version of our classic focaccia with various toppings:  caramelized onion, puttanesca (kalamata olives, capers, anchovy paste, cayanne), tomato herb & cheese (available in house only).
Fougasse:  A very hearty "grab-n-tear" flatbread made from our sourdough.  Tangy, chewy and marked by the flavors of its added ingredients of either oven-dried tomatoes with herbs, or kalamata olives and Parmesan cheese.
Multigrain: This bread is unique for its absence of white flour.  It is made with a whole wheat levain (for flavor), whole wheat flour, rye flour and five grains (oats, sesame seeds, sunflower seeds, flax seeds, and rye berries).  Crunchy crust, dense crumb with pronounced "grain" flavor.
Onion Rye:  Infused with caramelized onion, this rye bread has a high moisture content and soft crust. Baked on Tuesdays only.
Scali: A dark crusted bread with a cream-colored, soft crumb.  Coated with sesame seeds that infuse the crumb with a subtle nuttiness and add to the crust a pronounced sesame "punch" and a pleasant additional crunch.
Sourdough:  Made with a 100% whole wheat starter that we mix into a levain of rye and white flour.  Strong crust, very chewy crumb, this bread has a subtle sharpness and nuttiness.
Honey Wheat: a 50/50 wheat and white boule with chewy crumb and soft crust. Ideal for sandwiches and toast.
Burger & Brat Buns:  Classic enriched white buns, burger buns are rolled in sesame seeds. Sold weekends, summer only, starting Memorial Day weekend. Sold in 8 packs.
Holiday Breads: King Cakes, Irish Soda Bread, Hot-cross Buns, Dinner Rolls, Rosh Hashanah Challah, Stollen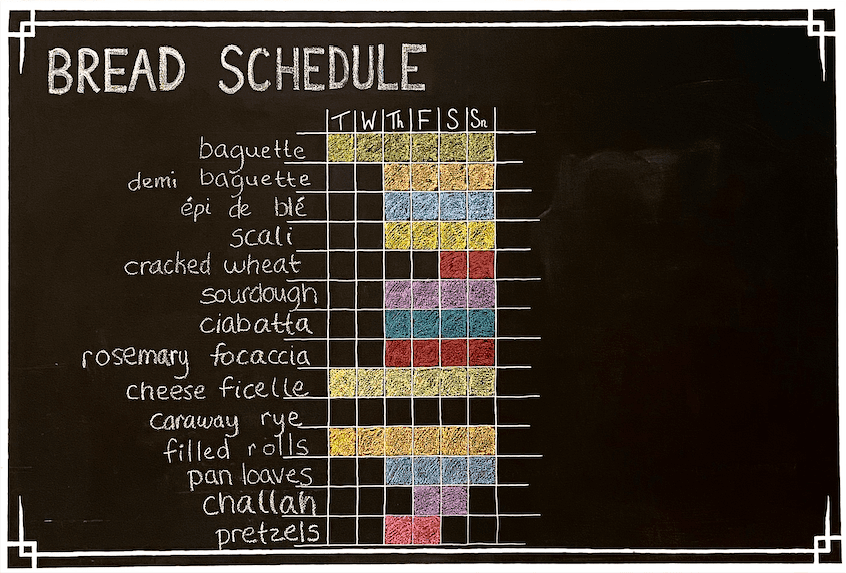 Huge thanks to Crystal K Creative for the many beautiful new photos on our homepage, team page, and throughout the wesite.