Bread & pastry the old-fashioned way: before dawn, from scratch, using only the finest ingredients, each piece carefully crafted by hand.
Order online
Get just what you're craving!
Place your custom order for pick-up.
Foot: Conveniently located at the corner of Williamson Street & Dickinson.
Bike: Parking on Dickinson & Willy. 1 block off Cap City trail.
Bus: Conveniently located on the Madison Metro 3, 4, & 7 bus lines.
Car: Street parking available. Please read signs.
Join the team at Batch Bakehouse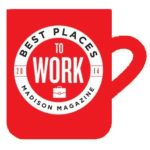 Are you looking for a place where you can share your talents, work with others who share your passion, and have a good time while you're working? Then we're looking for you! 
Come work in one of Madison's "Best Places to Work" with others who share your passion for good bakery and have fun doing it.